Sell, Buy, or Grow, it's all about Value!

Understanding and Increasing Business Value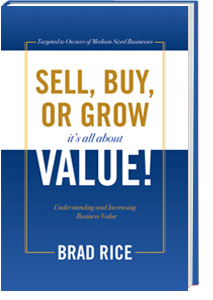 Sell, Buy, or Grow – it's all about Value! is an in-depth exploration of the essential determinants of a business's value, and how that value plays out in pricing, buying, or building a business. The book's purpose is to help owners better understand and increase business value.

The book is targeted to owners of medium-sized businesses. Chiefly geared to sellers, the book is also useful to buyers and entrepreneurs building a business.

Sample book topics include multiples, EBITDA, income and value improvement, recasting, strategic buyers, synergistic benefits, customer concentration, key employee dependency, minority rights, sales and earnings expectations gaps, representations and warranties, working capital adjustment, fair market value, leases, real estate pricing adjustment, what-if pricing, deal structure, sale allocation, ESOPs, competition, owner's needs and emotions, timing, preparation for sale, driving price, negotiation, letter of intent, due diligence, and deal momentum.

Much of the book's illustrations and stories are manufacturing or distribution related, with a unique chapter devoted to construction.
Value improvement thoughts are interwoven throughout the book. In addition, a distinct and final chapter addresses auditing, measuring, and driving value for building and growing a business, and contains a powerful Value Audit Checklist.
Each chapter contains real company stories and experiences, with confidentiality provided. In addition, to build on and show the interrelationships of value and pricing concepts, Pickleten, a hypothetical selling company based on real marketplace experiences, is tracked throughout the book.